Ride the Range
July 21–28, 2018
Our 2018 route will transport you back to when the pioneers came upon this land of bounty – from your bike, you'll be reminded why this was a promised land for so many. Roll through deep, shady forests of huge timber. Across verdant high prairies with grass waving in the wind. Beneath craggy outcrops and snow-peaked mountains. Along clear, pristine rivers that wind unimpeded for miles.
Along the way, you'll spend the night where the coldest temperature was ever recorded in Oregon (don't worry, it wasn't in July!); pose for pictures beneath one of the largest covered wagons in existence; explore centuries-old gold mining operations; ascend and descend a strikingly beautiful mountain few have ridden; savor the view of an alpine lake ringed by forest beneath a looming peak; and maybe even pedal alongside a band of wild horses.
This route showcases the multitude of elements that make Eastern Oregon a great place to ride. If you haven't traveled these roads at the speed of bike, we'll show you Oregon on a whole new level.
OREGON 2018 ROUTE DETAILS
Day
Description
Distance
(miles)
Elevation Gain
(feet)
1
Seneca to John Day
55
2,322
2
John Day to Sumpter
56
4,913
3
Sumpter to Baker City
78
5,528
4
Catherine Creek Layover Option
72
4,415
5
Baker City to Austin Junction
64
4,277
6
Austin Junction to Mt. Vernon
82
4,229
7
Mt. Vernon to Seneca
43
2,580
TOTAL (with option)
450
28,264
OREGON 2018 DAILY PROFILES
Day 0 – Saturday, July 21: Check-in, Seneca 
Everyone come on down to Seneca, a tiny and friendly community nestled in the panoramic Bear Valley. It was here that a temperature of -54 degrees was recorded in February 1933. Luckily, we'll be convening in July, where the temperature and the welcome will both be warm. Settle in, enjoy that first catered dinner, and let the anticipation build for the next day's ride.
Day 1 – Sunday, July 22: Seneca to John Day – 55 miles, 2,322 feet of gain 
Site: Grant County Fairgrounds, John Day (map) (lodging listings)
Roll north out of town for a few miles before heading west to catch Forest Road 21, the very definition of "back road." It leads to miles of effortless gliding down through the trees along Murderer's Creek, where wild horses run. After bottoming out and refueling at an old USFS cabin, dig in to the first real climb of the week. But it's less than 4 miles, and it's paid off by an exhilarating 10-mile downhill plunge that may make you whoop at some point. Once you're on Highway 26, it's a mostly flat and easy cruise on in to John Day.

Day 2 – Monday, July 23: John Day to Sumpter – 56 miles, 4,913 feet of gain 
Spend the morning waking up your legs as you gently climb alongside the John Day River. After passing through quaint Prairie City, climb on the forest roller-coaster – three successive moderate climbs and descents through the stately trees, the last two on the quieter Highway 7. Don't miss the views behind you on the first climb! Consider an ice cream at Austin House (we'll be back here again!) at the junction, and then find some Zen tranquility and pedaling rhythm as you make your way into the rough-and-tumble gold-mining town of Sumpter.

Day 3 – Tuesday, July 24: Sumpter to Baker City – 78 miles, 5,528 feet of gain 
Site: Leo Adler Field, Baker City (map) (lodging listings)
This is a special day on a bike. The morning's ride starts with an incredibly peaceful stretch pedaling the twisting mountain road through Granite, another historic and isolated mining town. At times all you'll hear is birds and your breath. That bliss is followed by one of the premier climbs in Oregon, up to postcard-pretty Anthony Lake in the Little Alps. Don't miss walking down to the lake shore for a minute, to take in the view. Then, the descent down the other side is also one of the most fun in the state – grip and rip it, down to the Powder River Valley, easing your way into Baker City.

Day 4 – Wednesday, July 25: Baker City Layover Optional Ride – Up to 72 miles, 4,415 feet of gain 
Site: Leo Adler Field, Baker City (map) (lodging listings)
Baker City teems with history – balanced by an infusion of modern-day pleasures. From our camp you can walk the historic downtown and find plenty to eat, drink and peruse. You can also spend part of your day riding across an undulating landscape that might take your breath away both figuratively and literally. It's an out-and-back, so turn around whenever you like – but the terrain changes dramatically if you take on the climb after the stop in Pondosa; it's worth the effort.
Day 5 – Thursday, July 26: Baker City to Austin Junction – 64 miles, 4,277 feet of gain 
Site: Bates State Park, Austin Junction (map) (no local lodging)
Not many people know about Dooley Mountain and the Burnt River Valley, but after this day they might be among your favorite off-the-radar gems. Ten miles out of Baker City, turn and start up 8 miles of serpentine curves as you attack the mountain pass. Once you peak, enjoy the same kind of road on the way down (hint: be ready to stop for photos). It looks like a car-commercial road. Once at the bottom, you'll still be grinning as you traverse the pastoral river valley for nearly 20 miles of relaxed riding. After a stop at sparkling Unity Reservoir, bust over one more significant climb before coasting down to Austin Junction (more ice cream!).

Day 6 – Friday, July 27: Austin Junction to Mt. Vernon – 82 miles, 4,229 feet of gain 
Site: Clyde Holliday State Rec Area, Mt. Vernon (map) (lodging listings)
Yes, it's our longest day, but hey – the first 40 miles is downhill! Skim down the road as you follow the twists and turns of the Middle Fork of the John Day, where the cows will easily outnumber the people and cars you see. When your "warm-up" ends, you'll still feel fresh enough to take on a few high points on your way into Long Creek and a refreshment break. Then comes the day's real work, a 5.5-mile push over Long Creek Mountain. But your day will end much like it started: this time it's a 20-mile-long stretch of mostly downhill into Mt. Vernon.

Day 7 – Saturday, July 28: Mt. Vernon to Seneca – 43 miles, 2,580 feet of gain 
You'll make quick work of this day, but before you go we want to give you a last taste of back-roads quiet. After an easy, steady stretch into John Day, we'll follow Canyon Creek gently uphill for 10 miles and then veer off onto a couple more little-used Forest Service roads. Once you hit about 31 miles, your week ends with yet another gliding stretch down to the finish line. Use this low-effort interval to think back on the sheer amount of scenery you've enjoyed in just one week!

OREGON 2018 RIDE LOGISTICS
Start Location
We'll all gather at the city park in Seneca on Saturday, July 21. Use Seneca Elementary School, 100 Park Ave., (across the street) as the address if you need something to plug in for navigation.
Check-In
Check-in is on Saturday, July 21. We open our check-in station at 2 p.m., and dinner begins serving at 6 p.m. It works best if you plan to arrive during that four-hour window; we'll hold check-in open until 7, but if you'll be later than that, it may be Sunday morning before you get checked in.
Driving to Seneca
From Portland (allow 5-6 hours):
Take I-84 E
Take Exit 104 for Hwy 97/Bend
In Wasco, turn left onto Hwy 206
In Condon, veer right onto Hwy 19
Go through Fossil and Spray; at the junction with Hwy 26, turn left onto 26
In John Day, turn right onto Hwy 395; go 25 miles
From Bend (allow 3 hours):
Take Hwy 20 east
Just after Burns, turn left onto Hwy 395; go 42 miles
From the south:
From I-5 north in Redding, take Hwy 299 east
In Alturas, turn left to join Hwy 395
At Riley, turn right onto Hwy 26 east
Just after Burns, turn left onto Hwy 395; go 42 miles
From the east:
From Boise, take I-84 west
In Ontario, take Exit 374 for Hwy 201 toward Hwy 20/26; go 5 miles
Turn right onto Hwy 20/26
Just before Burns, turn right onto Hwy 395; go 42 miles
Parking
Long-term parking will be right next to the park, beyond the baseball field; signs and helpful crew members will direct you to the right spot.
Flying In
The nearest commercial air service is at Redmond Municipal Airport (RDM), served by Alaska/Horizon Air, Delta, United and American Airlines. For private flights, the nearest facility is Grant County Regional Airport in John Day, 26 miles from Seneca.
Shuttle Services
If you're interested in a shuttle from Redmond (RDM), please contact us directly. We may be able to arrange a commercial shuttle before and after the ride, if there's sufficient interest. A good option would be to arrange to catch a ride with someone coming from the Bend area; we'll have a list of registered riders available for you before the event.
Overnight Lodging
The nearest overnight accommodations to Seneca are in John Day, about 25 miles away. Check out the Grant County Chamber of Commerce's lodging listings, TripAdvisor or another travel site for options.
Bicycle Rides Northwest
5725 NE Cleveland Avenue 
Portland, OR 97211 
503.281.1526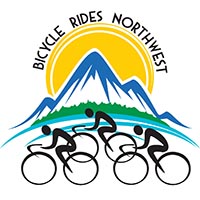 Sign up for our newsletter, to get
all the BRNW news first.
BRNW Oregon 2018, video by Phil Bard