Spirit of Shasta
August 4–11, 2018
Let us take you some places BRNW has never been… the 2018 route includes some old favorite towns and roads, some brand-new segments, and one memorable highlight: a ride up Mt. Shasta! It's seven days of riding in the wild, punctuated by a series of charming and quirky overnight communities. The words "isolation" and "California" may not seem to go together, but this part of the state is still a wonder of untamed natural splendor. You'll spend a major portion of the week following twisty roads that parallel rushing rivers – our favorite riding environment. And make no mistake about it: There's a lot of overall climbing on this route.
A significant portion of the route travels through the historic homelands of multiple Native tribes, including the present-day Hoopa and Yurok reservations. This is also the region where the most famous Bigfoot artifact – the 1967 movie clip – was filmed, and you'll be riding through some country that's wild enough to harbor that reclusive beast. Top it off with an optional ascent up Everitt Memorial Highway on the slopes of iconic Mt. Shasta, and you'll know why far northern California has wanted to secede – it's a unique place, completely unlike the more populated parts of the state to the south.
It's somewhere you can still get away from it all – in this case, on your bike.
CALIFORNIA 2018 ROUTE DETAILS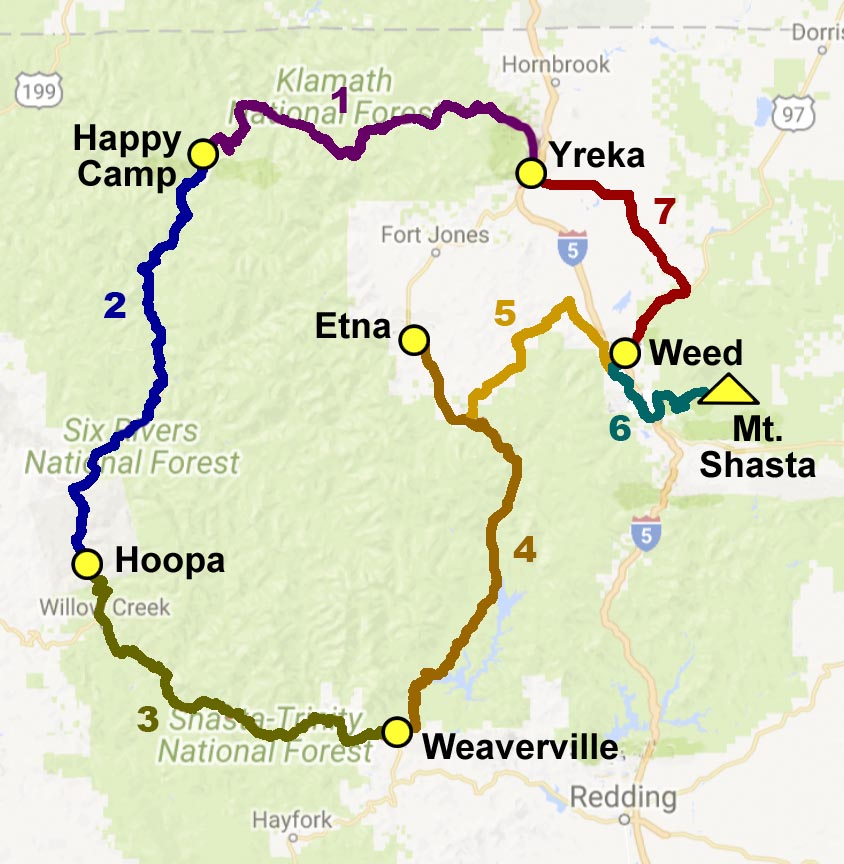 Day
Description
Distance
(miles)
Elevation Gain
(feet)
1
Yreka to Happy Camp
72
3,750
2
Happy Camp to Hoopa
71
5,957
3
Hoopa to Weaverville
68
6,281
4
Weaverville to Etna
75
7,176
5
Etna to Weed
53
3,530
6
Mt. Shasta Layover Option
53
5,657
7
Weed to Yreka
43
1,629
TOTAL (with option)
435
33,980
CALIFORNIA 2018 DAILY PROFILES
Day 0 – Saturday, August 4: Check-in, Yreka 
Site: Jackson St. Elementary, Yreka (map) (lodging listings)
Day 0 is the time to hit town, reconnect with old friends and start making some new ones. We'll convene in Yreka, with its scenic setting and rich history, as we get primed to begin our epic adventure together. You can almost feel the sense of anticipation right now.
Day 1 – Sunday, August 5: Yreka to Happy Camp – 72 miles, 3,750 feet of gain 
Even getting out of town is interesting on this day, as we pass through the center of the historic downtown district, then follow a delightfully windy road above the Shasta River – all as a prelude to the day's main groove: Following the Wild and Scenic Klamath River the rest of the day. While it's a rolling road, you're going downstream, so it's a net downhill for the day. (Well, there is that one climb just before you reach Happy Camp.) Breathe deep, and let go of your life back home. You're immersed in nature now.
Day 2 – Monday, August 6: Happy Camp to Hoopa – 71 miles, 5,957 feet of gain 
We dive deeper into the backcountry on Day 2; you'll marvel at your fortune that there's a good road built through here. From massive but graceful bridges spanning deep river canyons, to the thick, leafy canopy of Ishi-Pishi Road, you can enjoy visual pleasure all day. If it's hot, swimming opportunities abound along the river. And after the climb and drop along The Bluffs, roll into Hoopa for a warm welcome from tribal members.

Day 3 – Tuesday, August 7: Hoopa to Weaverville – 68 miles, 6,281 feet of gain 
After weaving its way up and out of Hoopa, the official Bigfoot Highway will take us to Willow Creek, where we'll have a stop in front of the Bigfoot Museum. Then we switch rivers, following the Trinity – which is no less beautiful than the Klamath. You'll groove on more whitewater, wildlife and sheer canyons today – plus two lush and shady rest stops – until you arrive in Junction City and face the big honkin' climb up and over Oregon Mountain. But once the work's done, it's a thrill-ride descent into Weaverville and its improbably cool old downtown.

Day 4 – Wednesday, August 8: Weaverville to Etna – 75 miles, 7,176 feet of gain 
You've been building up your climbing legs for several days – and today will continue that trend. There are virtually no flat sections today, at least not until the last stretch. Roll up and down through the woodsy Trinity Alps, catching glimpses of the picturesque reservoir, and then start the gradual climb to the base of Scott Mountain, an epic climb of more than 5 miles that winds up through pristine forest and tumbling streams. Once you're at the top, the downhill might re-set your land-speed record, if you're so inclined. At the bottom, the funky Callahan Emporium is worth a stop, and then enjoy a smooth ride into Etna.

Day 5 – Thursday, August 9: Etna to Weed – 53 miles, 3,530 feet of gain 
The mileage and elevation ease up today, but not the awe-inspiring scenery. After pedaling back through Callahan, join the sublime Callahan-Gazelle Road, where you'll climb gradually and then a bit more steeply, peaking to arrive at a scenic vista with the road winding down through it like a crazy water slide. Embrace the g-forces on the way down, and then start drinking in the Mt. Shasta views as you ride ever closer to the leviathan peak.

Day 6 – Friday, August 10: Weed Layover Mt. Shasta Climb – 53 miles, 5,657 feet of gain 
You can easily choose to hang around the park (and the brewery next door) on Layover Day, or you can scale mighty Mt. Shasta – on a bike and on your own terms. Everitt Memorial Highway serpentines up the flanks of the volcano, offering broad views back down as well as sudden breathtaking views up to the summit around various corners. You'll feel like a mountaineer when you reach the end of the road, and then remember to focus on keeping your eyes on the road on the way down (hint: stop for photos).

Day 7 – Saturday, August 11: Weed to Yreka – 43 miles, 1,629 feet of gain 
Site: Jackson St. Elementary, Yreka (map) (lodging listings)
You've worked darned hard this week – you deserve an easy day transitioning back to the real world. With Shasta looming over your shoulder all the way, head briefly up the Volcanic Legacy Scenic Highway and then cut off onto a series of bucolic back roads, zig-zagging your way up through Montague and then back into Yreka with an epic adventure's worth of memories.

CALIFORNIA 2018 RIDE LOGISTICS
Start Location
We'll all gather on Saturday, August 4, at Jackson Street Elementary School, at 405 Jackson St. in Yreka.
Check-In
Check-in is on Saturday, August 4. We open our check-in station at 2 p.m., and dinner begins serving at 6 p.m. It works best if you plan to arrive during that four-hour window; we'll hold check-in open until 7, but if you'll be later than that, it may be Sunday morning before you get checked in.
Driving to Yreka / Jackson St. Elementary
From Portland (allow 5-6 hours):
Take I-5 south
Take Exit 775 in Yreka and turn right
Go 4 blocks and turn left on Oregon St.
Go 5 blocks to Jackson Street; turn right
From Bend (allow 4 hours):
Take Hwy 97 south
At Weed, take I-5 north
Take Exit 775 in Yreka and turn left
Go 4 blocks and turn left on Oregon St.
Go 5 blocks to Jackson Street; turn right
From the south:
From I-5 north, take Exit 775 in Yreka and turn left
Go 4 blocks and turn left on Oregon St.
Go 5 blocks to Jackson Street; turn right
Parking
Long-term parking will be right on the school grounds; signs and helpful crew members will direct you to the right spot.
Flying In
The nearest commercial air service is at Rogue Valley International-Medford Airport (MFR), served by Alaska/Horizon Air, Delta, United and Allegiant. For private flights, the nearest facility is Siskiyou County Airport in Montague, about 7 miles east of Yreka.
Shuttle Services
If you're interested in a shuttle from Medford (MFR), our vehicle will pick you up at a prearranged time. The shuttle fee is $40 round-trip per person. Please fill out this form regarding your flight information and return to us. We need your payment and travel information by August 1.
Overnight Lodging
Yreka has a wide variety of lodging options. Visit TripAdvisor or another lodging site for a listing of properties.
Bicycle Rides Northwest
5725 NE Cleveland Avenue 
Portland, OR 97211 
503.281.1526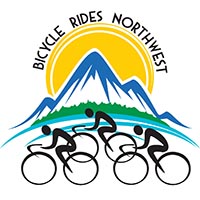 Sign up for our newsletter, to get
all the BRNW news first.
BRNW California 2018, video by Phil Bard