FREQUENTLY ASKED QUESTIONS
What does my registration fee include?
The registration fee includes three meals per day (starting with dinner Saturday evening and ending with lunch at the finish the following Saturday); a designated area for camping; baggage and gear-drop transport; hot showers with a fresh clean towel each day; portable toilets serviced each day; multiple support vehicles on the route; legendary rest stops overflowing with good food; snacks and beverages in camp (including a variety of craft beer); vehicle parking for the week; mechanical support services on the route and in camp; daily entertainment and culture activities; and a commemorative Rider Gift.
Can I bring my own support vehicle and driver?
Yes and no. A non-rider companion may drive their own vehicle as long as they're registered as a non-rider. The fee for a non-rider is $650, and includes all meals and other amenities. But non-riders are not allowed to provide personal support services for you along the route. The driver will need to check in with us at the event start and agree to abide by our policies. For safety reasons, they'll be required to travel a different route to the next campsite whenever available, helping us keep extra vehicles to a minimum along the bike route. Even if there's not an alternate route available, a non-rider is not allowed to stop at the rest stop or anywhere along the route; this can be hazardous for the riders.
Will there be additional parking available for my own support vehicle and driver?
No, we do not provide additional parking or RV sites on our tours. You'll be responsible for arranging your own RV sites along the route. As for additional parking, contact BRNW to learn more about might will be available at each site along the way.
What do I need to do if I have to cancel?
We understand that some riders will have to cancel their registration, due to injuries, illnesses, last-minute date conflicts or other unanticipated situations. You can read the details of our registration policies here.
Why should I consider travel insurance (aka trip cancellation insurance)?
Traveling can mean encountering the unexpected, including things like an inconvenient flight delay, a cancellation for sickness, a truly serious medical emergency or even an event cancellation due to dangerous conditions. In today's travel environment, it's increasingly important to protect yourself and your travel investment. Learn more about trip insurance and our registration policies here.
Will we have a place to leave cars for the week?
Yes. We've arranged for long-term parking for the week at the site where we start and end the rides.
Can I ship my bike?
Yes, you can ship your bike to Sunnyside Sports. Be sure it arrives no later than four days prior the start of the ride:
Sunnyside Sports
930 NW Newport Ave.
Bend, OR 97703
Attn: BRNW Oregon or BRNW California
Phone: 541-382-8018
Check with your local UPS service for actual shipping time from your area. Please be sure to put your name on the box or bike. For more information and a shipping form see Bike Shipping.
Is it possible the route may change from what is posted on the website?
Yes, it's possible the final route could change. There are many reasons last-minute changes can come into play: road construction, final permit approvals, acts of nature and more. If we have to make a change, we'll provide updated route information as soon as possible.
How many riders do you take on the tour?
We limit our group size to 300 riders or fewer. This size is small enough to allow riders to meet new people and build new friendships, without getting lost in a crowd.
Is this a camping or a lodging tour?
This is a camping tour. We'll provide a list of motels in or near our overnight communities in the rider confirmation packet. Please note that we do not offer a shuttle service to get you to and from the motels; you'll be on your own for that. If you choose to stay in motels, you should bring a backpack to carry your overnight essentials, and ride your bike to and from the motel. Your baggage will be stowed in our luggage trucks overnight for you. Please be sure to check a mapping program or with the motel in advance, to determine how far your accommodations are from our camp.
Do I have to bring my own tent?
Yes, you need to bring your own tent, and it must be packed in one of your two bags. You may want to consider our Tent & Porter Service if you don't want to bring your own tent along.
When do I need to arrive?
We recommend you arrive on Saturday afternoon (July 21 for BRNW Oregon and August 4 for BRNW California). Check-in opens at 2 p.m. We will have the campsite ready for you, as well as dinner on Saturday night. Both rides begin Sunday morning. Detailed information will be included in your confirmation package.
How many bags can I bring?
We ask that you only bring a reasonable amount of baggage, as it has to be loaded and unloaded each day. Typically this would constitute two medium duffel bags, limited to no more than 40 pounds each – remember, you'll have to carry your own bag to and from the baggage truck most days, and please be considerate of our crew member and their backs! If you bring oversize/overweight bags, we reserve the right to make you lighten them before we leave our first camp. Do not bring odd items as "luggage" (garbage cans, garbage bags, shopping carts…).
Can I bring my own chair?
Yes, you may bring a chair; it must be packed inside one of your two bags (i.e., don't bring a full-size patio chair). We do offer a Chair Service if you do not want to bring your own along.
What hours are riders allowed on the course?
You'll have plenty of time to finish the route each day. The course officially opens at 7 a.m. each day, and it officially closes at 6 p.m. Please don't start before 7 a.m. – we won't have SAG or mechanical support on the route, and the first water or rest stop may not be ready when you arrive. If you're still on the course at 6 p.m., you'll be offered a ride into camp in a SAG vehicle. If you turn down the ride, you'll be on your own without route support. In addition, if you fall an hour or more behind the rest of the riders, you'll be offered a "bump-up" ride back to the main group. Same deal – if you refuse the ride you won't have event support. We can't devote one of our SAG vehicles just to follow one or two riders that far behind.
How many rest stops do you have on your rides?
We typically have two rest stops each day; we try to place them roughly 1/3 and 2/3 of the way to the finish. But site availability, terrain and other factors influence placement. We also try to incorporate one or more additional water stops if the route and/or the weather dictate.
Do you provide lunch?
Yes, we provide lunch in camp each day – except our layover days, if the community has lunch options available. Our rest stops offer substantial enough food choices to get you through your ride, and then you can enjoy a leisurely lunch back in camp.
Will you have drop sites available for extra gear?
Yes we will have a gear-drop system for you. When you check in at the event start, you'll receive a BRNW Chico bag. Be sure to write your name on it with a magic marker at check-in. This bag fits into its own internal stuff sac (look inside the bag), and fits very conveniently in your jersey pocket. You can put your jacket, arm warmers, knee warmers, etc., into the bag and tie it shut. Just leave the bag at one of the rest stops, and our team will bring the bags to Camp Central. Your drop bags should be available each day around 4 p.m. at Camp Central.
How can I charge my electronic devices?
We have a charging station set up near Camp Central. However, we can't always guarantee that charging will be available everywhere we go. As long as we have sufficient power, we will have a functioning charging station.
Bicycle Rides Northwest
5725 NE Cleveland Avenue 
Portland, OR 97211 
503.281.1526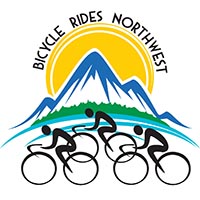 Sign up for our newsletter, to get
all the BRNW news first.