If you ask any of our regular BRNW riders why they keep coming back, they'll tell you it's about how it feels as a rider.
It's likely every one of them has been on other tours; they know the difference. What makes a BRNW tour different is not just the routes, or the food, or the host communities, or the amenities… it's all those things and more. We focus on one thing – first, foremost and always: the rider experience.
We've been doing this for more than 30 years – we've worked out the best way to handle the things that make up a tour. Of course, we still improve our events every year in a few ways; there's always room for that. What you'll notice is an emphasis on the details that make the event more relaxing, more efficient, more fulfilling… more fun. If you haven't been on a ride with us, you should find out for yourself – join the BRNW Family!

"Nice people! I arrived solo and left with new friends."
It can be a dilemma: How do you know what it's like on a BRNW tour if you've never been on a BRNW tour?
Well, first of all we suggest you take in the testimonial quotes from past participants that are scattered around the site, for a general flavor.
But we'd like to give you the best possible feel for the atmosphere, the environment, the vibe of a BRNW event. So we've put together some visuals to help the cause.
Start with the video at the top of this page, which captures moments from our 2017 tours (compliments of Wes Yurovchak, our Camp Central Lead as well as a multimedia wonder). It'll give you a feel for things.
Then make sure you peruse and absorb all the photos on this site, from our routes as well as our camps (you can click on the ones in the horizontal rows). And as a bonus, we've created highly enticing videos for the 2018 Oregon and California events that will show you the splendor of these routes – including some tasty clips taken with a drone camera on our pre-rides. Enjoy!
Bicycle Rides Northwest
5725 NE Cleveland Avenue 
Portland, OR 97211 
503.281.1526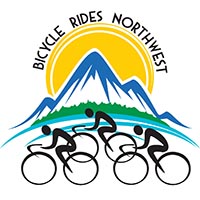 Sign up for our newsletter, to get
all the BRNW news first.
What It's Like, video by Wes Yurovchak
BRNW Camp in Naches, WA, by Phil Bard